When playing sport, from local club grounds to international stadiums, lighting plays a crucial role. If the color and placement of the lights are poor the players and audience will have difficulty focusing. To be able to perform their best, players should not even notice the lighting. High-quality sports lighting creates a good environment and helps players achieve (and kick!) their goals. Today Technilux Lighting Technology will discuss four issues of sports lighting; the color of light, illumination measurement, uniformity, and visual glare.
Sports Lighting as it relates to Illuminance
Every sports discipline has its own discrete requirement of appropriate light level for indoor and outdoor sports fields. In this regard, illuminance measurement depends upon two forms: horizontal and vertical planes.
Typically, horizontal illuminance is measured (in lux) on an imaginary flat surface one meter above the ground. Vertical illuminance uses an imaginary vertically oriented surface. The angle is then specified from this vertical plane:
The figure above shows vertical illuminance from a single light source. As the angle decreases, lumens per square meter (lux) decreases.
Illumination Uniformity
Illumination uniformity is an important factor for any LED sports lighting setup as it provides clarity to players and spectators. The lighting needs to be consistent to allow players, spectators and television cameras to work properly. In the case of televised events, strict international standards need to be adhered to. There are 3 metrics used to specify the desired uniformity of horizontal & vertical illuminance on the gaming field:
Uniformity ratio
Coefficient of variation
Uniformity gradient
Visual Glare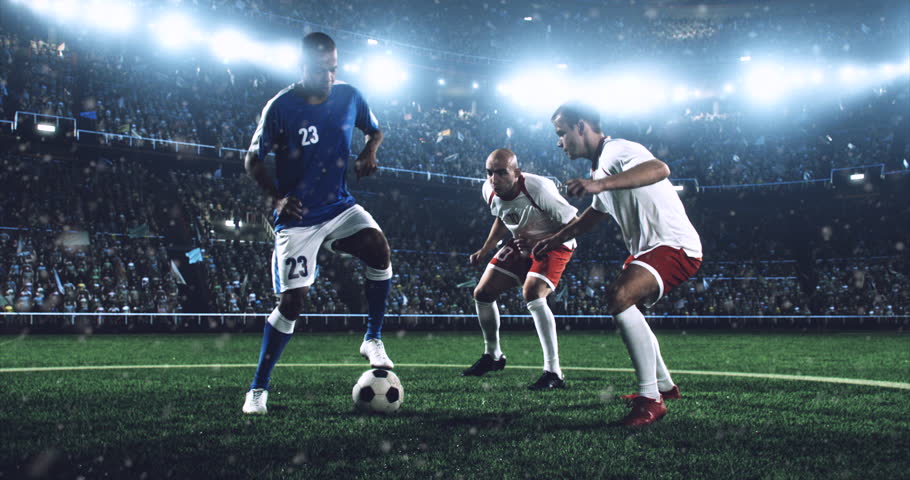 Visual glare occurs when the luminance of the light fixtures within an observer's field of view (either a player or spectator) is sufficiently greater than the average luminance to which the observer's eye has adapted. It will cause visual discomfort (triggering a squint response) and may impair vision.
The Colour of LED Light
Sports organisations typically specify the correlated colour temperature (CCT) for sports field lighting.
| | |
| --- | --- |
| Organization | CCT |
| FIFA | ≥ 4000K |
| FIH | > 4000K |
| NCAA | > 3600K |
| NFL | 5600K (alternatively 5000K to 7000K) |
Note:The symbol 'K' represents Kelvins (one kelvin is equal to one degree Celsius).
We hope you liked this brief review of sports lighting terms. We will explore this topic further in later articles.
Technilux Lighting Technology manages sports lighting upgrades all around Australia from our local offices in Melbourne. We supply the highest quality sports LED lighting fixtures used in major stadiums all over the world. Our in-house design team will ensure your lighting project achieves the highest possible specifications for your budget. Feel free to contact us for more details.
Reference source: Sports Lighting Regulations